Technology - 01/05/2021
MZ Launches Exclusive IR Website Offer to OTC Traded Public Companies
NEW YORK, Jan. 27, 2021 /PRNewswire/ — MZ, a global leader in investor services, today announced an exclusive offer to all public companies traded on the OTC Markets (inclusive of OTCQX, OTCQB & Pink, ) whereby MZ will develop an IR website and offer one-year of hosting and maintenance of the new website free-of-charge.
All MZ websites are built with investor engagement and regulatory compliance in mind, leveraging fully responsive, modern, and GDPR-compliant designs. Websites are hosted by Amazon AWS and with a user-friendly content management tool.
"We are thrilled to announce this innovative new offering, allowing any public company, regardless of size, to offer an engaging, professional public presence," said Amanda Munhoz, Partner at MZ. "Our offer allows any public company to efficiently communicate its investment thesis, maintain regulatory compliance and engage with its investors seeking additional information, all while saving thousands as compared to competing providers.
"We look forward to working closely with the management teams of OTC traded companies, leveraging our years of experience servicing larger-cap issuers to bring an unrivaled level of service to the OTC markets."
All eligible public companies can find more information at https://www.mzgroup.com/otc-lets-start/ or contact the MZ team at sales@mzgroup.com.
About MZ
MZ is a global leader in investor relations services for over 20 years. Our solutions are trusted by more than 700 clients worldwide and we have published over 1,400 IR websites. Our portfolio of intelligence and communication solutions empower our clients to be ahead of the market by providing them with all the tools and insights they need to make effective decisions and better engage with the market. For more information, please visit our website at http://www.mzgroup.com/
Contact:
Amanda Munhoz
Partner & Sales Executive 
Amanda.munhoz@mzgroup.com
www.mzgroup.com
SOURCE MZ
Technology - 08/13/2019
Understanding the case brought by LGPD to process personal data
Brazil approved its bill on personal data processing on July 10, 2018. Law Nr. 13709/2018 which, after the provisional measure published on December 27, 2018, will come into effect on August 2020, became known as General Law of Data Protection (LGPD) and addressed personal data processing with the purpose of protecting fundamental rights of freedom and privacy and the free development of the personality of the individual.
The definition of data processing is brought by the Law as every operation with personal data, such as those referring to collection, production, reception, classification, use, access, reproduction, transmission, distribution, processing, archiving, storage, elimination, evaluation or information control, modification, communication, transfer, diffusion or extraction.
Under this concept, we can understand the extent assigned by the legislator to the definition of processing, thus considering all acts that involve personal data "processing", so that, the individual or legal entity under public or private law that carries out any of the acts within such concept will be subject to Law Nr. 13709/2018.
In addition to the extent of the processing concept, which allows more agents to be subject to the law, the Law also established that the processing must comply with good faith and principles like purpose, adequacy, necessity, free access, data quality, transparency, security, prevention, non-discrimination and accountability.
The purpose of establishing these principles is to protect the fundamental rights of freedom and privacy and the free development of the holders when their data is processed.
Under the same idea, Law Nr. 13709/2018 provides certain assumptions that authorize personal data processing. The cases described in Clauses 7 and 11 are divided according to the personal data to be processed, with Clause 7 referring to personal data and Clause 11 referring to sensitive personal data.
When verifying the subsections of Clause 7 we can observe that some case that authorize the data treatment were created to meet specific issues, such as the treatment by the Government to carry out the treatment and data that must be shared to implement public policies. The lawful data treatment in judicial, administrative or arbitral proceedings or to comply with legal or regulatory requirements by the controller, as well as the treatment to carry out studies by a research body, which, whenever possible, must anonymize the personal data.
In addition, the Clause sets forth that personal data processing may be carried out for credit protection. This Clause establishes the characteristics of credit protection and stresses the need to observe specific rules on the subject.
The legislator also created cases that allow the data treatment for subjects related to life and health protection. In such cases, the data may be processed to protect the life or physical safety and to protect the health, in procedures performed by health professional or by health entities.
Out of the scope of specific cases that authorize data processing, Clause 7 of Law Nr. 13709/2018 authorizes the data processing when signing a contract or carrying out preliminary procedures related to a contract in which the holder is a party.
This happens in cases when the data must be processed to sign a contract between the data holder and the data controller.
The Protection Law of General Data also provides the legitimate interests of the controller or of a third party as a case authorizing data processing, except when the rights and fundamental freedoms of the holder that require the protection of personal data prevail. Even if there are legitimate interests, a case that may be widely used to justify data processing, the lack of additional information on of its own concept has led to doubts in its interpretation.
To understand this important concept, it is worth noting that this is a new concept inspired by the General Data Protection Regulation (GDPR)1. In this way, the idea of ​​legitimate interest brought by the European Commission:
"A company/organization that often has to process personal data to perform tasks related to its business activities. The personal data processing within this context may not necessarily be justified by a legal obligation or be carried out to enforce the terms of a contract with a party. In such cases, the personal data processing may be justified on grounds of legitimate interest"2
In short, we can understand that to process data based on this case the purpose must be to carry out a business activity that does not necessarily have a legal obligation.
In conclusion, although Clause 7 of the Law has been used to show the cases that authorize personal data processing, it should be worth noting that this greatly mirrors most cases under Clause 11, which provides for cases in which sensitive data can be processed. It should also be emphasized that one must take every precaution necessary when dealing with personal data and even more when dealing with sensitive personal data, considering that this data requires an even more rigorous standard to protect the data's owners.
¹ EUROPEAN UNION. General Data Protection Regulation 2016/679 of 27 April 2016. On the protection of individuals with regard to the processing of personal data and on the free movement of such data and repealing Directive 95/46 / EC ( General Regulations on Data Protection). The European Parliament and the Council of the European Union.
² European Commission. What does <grounds of legitimate interest?> Mean. Available in: https://ec.europa.eu/info/law/law-topic/data-protection/reform/rules-business-and organisations/legal-grounds-processing-data/grounds-processing/what-does-grounds legitimate-interest-mean_pt. Accessed November 12th, 2018
Published by Marília Rodrigues
Technology - 03/28/2019
"Your connection to this site is not secure." What does it mean?
Since information is currently very valuable, protecting data and ensuring that sensitive or personal information does not fall into the wrong hands is highly recommended. To that end, websites are required to use security certificates, which are responsible for validating websites and establishing secure connections between visitors and website servers.
You probably have already come across the following warning when accessing a website: "YOUR CONNECTION TO THIS SITE IS NOT SECURE." That happens to websites without the SSL/TLS security protocol. In other words, they still use HTTP protocol rather than HTTPS.
HTTPS is a combination of HTTP and SSL/TLS protocols. In short, the difference between HTTP and HTTPS is the extra layer of cryptography added by the SSL/TLS protocol, which enables safe information exchange without interception.
According to Google, since 2017 efforts to raise awareness of the use of security certificates have been producing positive effects:
Over 68% of Chrome traffic on Android and Windows is protected;
Over 78% of Chrome traffic on Chrome OS and Mac is protected;
81 out of the top 100 websites use HTTPS by default;
Another research conducted by BigData Corp in 2018 indicates that 91.43% of the global website average already uses security protocols. Part of this increase is the result of Google's actions, that, since July 2018, has been labeling uncertified websites as "Not Secure" in the Google Chrome address bar. Therefore, users can easily identify whether the website is secure or not. The absence of the security seal, which is represented by the "padlock" in the address bar and the "s" in HTTPS, leads users to rightly feel uncertain and, as a result, uncomfortable to share information.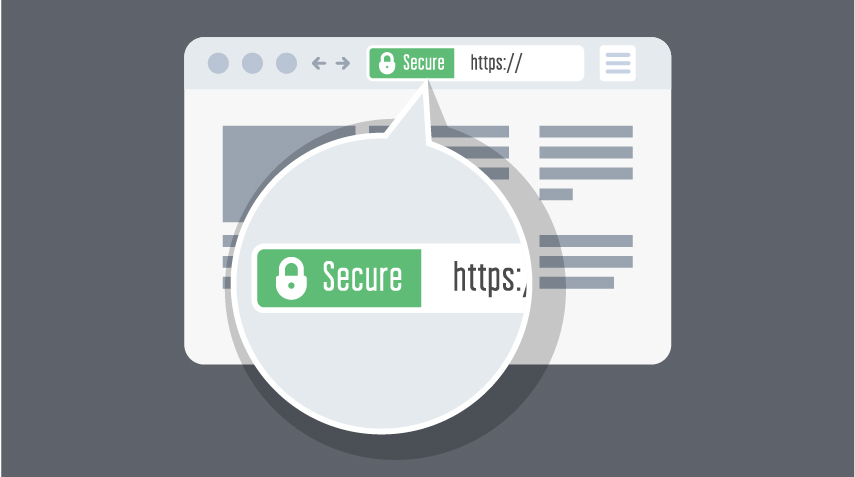 Once websites offer the HTTPS protocol, all information, including name, email, telephone, company, banking data, among others, entered by users in the browser is encrypted and eligible for processing in the server, avoiding MITM attacks, where this information can be intercepted.
In addition, as part of the strategy to encourage secure information traffic, "secure" websites are better ranked in Google's researches, i.e. the use of security protocols combined with SEO strategies is a great path for those seeking security and visibility on their websites. In addition to ensuring information security and avoiding users to feel uncomfortable when coming across such warning, it consequently improves website visibility on search engines, thus substantially increasing website access.
Published by Eliézer Oliveira.
Technology - 03/08/2019
Take your IR website to the next level
Technology is constantly changing, and IR professionals need to stay on top of new developments to ensure their strategies don't become out of date. This video provides tips and benchmarks for IR websites in 10 key areas, covering artificial intelligence, security features IROs need to consider, how to use your IR website to help analysts better understand your company, and much more. Watch it below.
Technology - 02/27/2019
XBRL Structured Data and its impact on businesses
As it is well known, and you can recall the subject in this article, one of XBRL's key intentions is to allow computers to compare a company's structured quarterly and/or annual data in different periods with its market peers or with any other company. Allowing a computer to perform such task would give us results in a faster, more reliable, and less tiring way.
Since 2009, the SEC has been facing problems related to structured data as companies are not significantly adhering to the proposed taxonomy due to their own valuation and accounting frameworks. The problem for FPIs is even greater as they are part of more than just one stock exchange.
Thus, companies with difficulties in adhering to the taxonomy are suggested to create extensions as a proposed solution. This option allows companies to ensure that their unique structured data will be available with the duly required trustworthiness. However, although this resource is powerful, it limits comparability between different structured data.
We are creating a structured data scenario that will not be very useful in the future since the increased number of extensions and lack of standardized company reports will make it difficult for softwares to compare XBRLs in a way that is practical for users. Thus, instead of promoting advanced automated and dynamic readers in a single compact file, we are stuck with static document readers.
Written by Fernando Fernandes